Just before 4pm I noticed that the Caribena versicolor I keep had molted for the first time in my care. In the early afternoon I had added water to the enclosures of each of the ten tarantulas I keep, mostly slings. And I guess the increase in humidity triggered the molting process in the little spider. Or maybe it was just ready.
After I had taken two photos with my iPhone 5 with a LED ring light plus macro lens I noticed a small mealworm crawling around in the enclosure. I always crush the head of mealworms prior to feeding them to my spiders, but I guess I didn't do it right with this one.
As the Caribena versicolor shouldn't eat for at least a week after molting I removed the mealworm and tried to feed it to the Hapalopus sp. Colombia "large" I keep. This spider also molted recently; I found an exuviae with it the 21st of this month. But it was not interested in eating the small mealworm.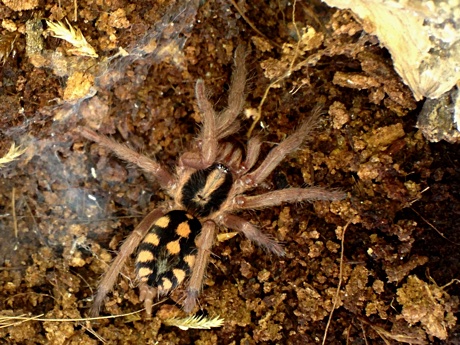 In the end I fed the small mealworm to the Chromatopelma cyaneopubescens, which detected the wriggling prey item and picked it up to eat it.