In the afternoon I noticed that the Psalmopoeus irminia sling I keep had molted; I saw the exoskeleton dangling from a piece of moss coming out of the cork tube it lives in. Because I had an appointment I couldn't take photos, so that I did in the evening.
In the evening, after I had taken the above photo I also spotted a cast-off exoskeleton in the terrarium in which I keep a Pterinochilus murinus sling. On the 12th of this month it had already opened its burrow, and I suspected back then that it had molted. And now I had proof. Maybe I overlooked the exoskeleton earlier because it was underneath the leaf of a plastic plant.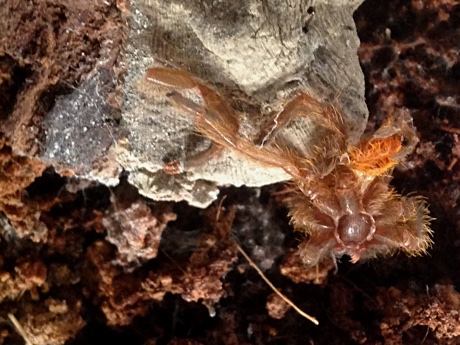 I also checked on the Chromatopelma cyaneopubescens sling I keep, which recently also molted. Because it moved out of its webbing I decided to try to feed it, and it readily accepted a pre-killed mealworm, Tenebrio molitor.