In the early evening I noticed that the Aphonopelma seemanni I keep was entirely out of its burrow. I used a large pair of tweezers to block the tarantula from bolting backwards into its burrow. Next, I guided it carefully on my hand.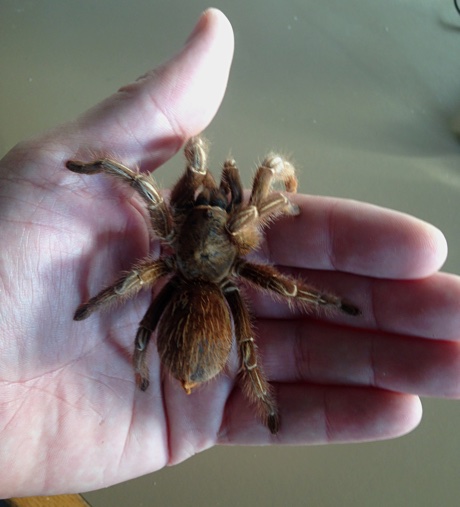 It was quite restless and got off my hand on the desk. Adam got down to get my iPhone so I could take a photo while I kept an eye on the large tarantula sitting on my desk.
It took a few attempts to get the tarantula back on my hand so I could take a photo of it. Several times it made a short but very audible run on my desk. After I had taken two photos of the large spider I returned it back to its terrarium.
Note that I rarely handle the tarantulas I keep. The previous time for this specimen was when I had just bought it the 7th of March 2020. Based on the above photos it has grown quite a bit.