Hapalopus sp. Colombia large form eating a mealworm
In the afternoon I gave the smallest of the tarantulas I keep, a Hapalopus sp. Colombia large form sling, a small mealworm, Tenebrio molitor. Even though the mealworm was larger than the tarantula, as soon as I dropped it next to it, the tarantula attacked the larva, wrestled with it, and subdued it.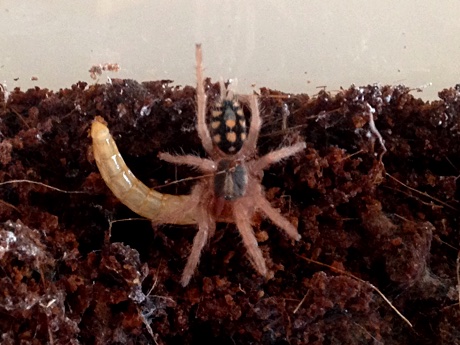 I keep this species since April the 7th, 2020. And while I have attempted to give it pre-killed mealworms before as far as I know this is the first time it actually eats in my care.
This spider has the common name "Pumpkin Patch" tarantula because of the orange pattern on the abdomen. For more information on this dwarf tarantula read Hapalopus sp. Colombia – The "Pumpkin Patch" by Tom Moran.