Last Monday I ordered a Liocheles australasiae online with Geleedpotigen.com located in Belgium. The Dwarf Wood Scorpion was shipped on Tuesday and arrived today just before noon.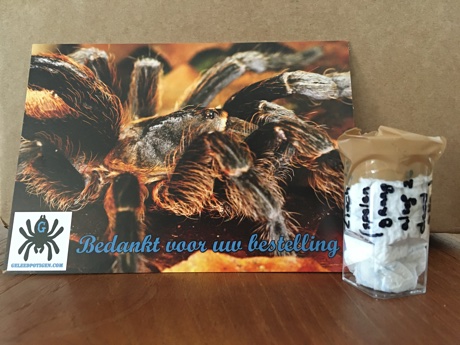 The scorpion came well packed: in a vial stored in a Styrofoam box with heatpack and paper to prevent it from bouncing around. The Styrofoam box itself was packed inside a carton box. Also included was a nice card which thanked me for the order. I paid €25,00 for the scorpion and €9,99 for shipping.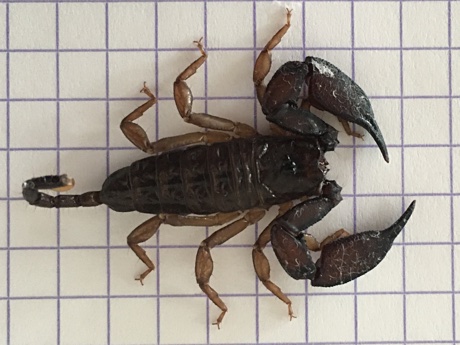 The vial had a message which told me that this species loves to play dead (thanatosis). However, this specimen was moving normally when I got it out of the vial onto a piece of 5mm grid paper. After taking photos I put the scorpion in a small cup with the moist paper it came in.
Later I prepared a small terrarium. First, I made very dry coconut coir moist by putting it in a Ziplock bag and adding water. Next I mixed the water and the coir by kneading carefully. I had to keep adding water several times until the coir was quite moist.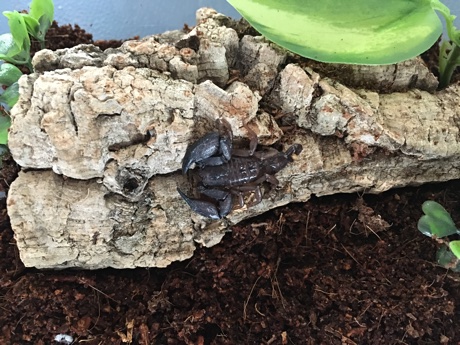 I put the coconut coir in a plastic container with small holes drilled in the sides and the lid for ventilation. I placed a piece of cork bark for a hide, and some plastic plants for decoration. When done I added the small scorpion. I also added a small pre-killed mealworm which it might eat in the night.
As this species is well know for being parthenogenetic, i.e. females can give birth without having been in contact with a male. In this case the offspring are all females. I expect a brood somewhere in the summer since all species in the hobby seem to be females.