Last Saturday my brother helped me with placing a wired ethernet connection in my home office. Somehow directly connecting my late 2014 Mac mini to the wall ethernet jack didn't work; no ethernet. In the evening he dropped a 4 port switch at my place. Using this 4 port switch to connect the Mac mini did work. When I tested the Internet speed I got 10Mbps so I suspected that the switch was nog a gigabit switch and ordered a TP-Link TL-SG108 with 8 ports yesterday.
I also have a lot of networking issues with Wi-Fi and suspect the router, a TP-Link TL-WDR4300 N750 which I flashed with OpenWrt. So last Monday I browsed a Dutch website for second hand products; Marktplaats, and placed an offer of €15 on a TP-Link TL-WDR4300, the same model as I already owned since I know it works very well with OpenWrt. The offer was accepted and with shipping to my home the total was €22.25.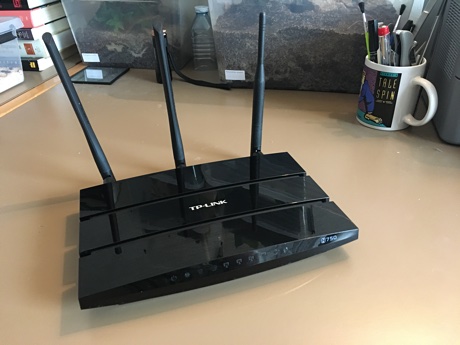 Both items arrived today in the morning. I had also ordered two UTP cables with the desktop switch, one meter each, but those probably arrive tomorrow.
Today, when I did a speed test with the old switch in order to compare it with the new one I was surprised to get a speed way above 10Mbps. At times I even got close to 100Mbps. When I checked underneath the switch it stated it was a 1Gb switch 😫.

When I tested the new switch I had the same problem as with the Mac Mini: the switch didn't detect a network on the incoming side. So now I suspect something is wrong with the cable that goes all the way down to the router, and my brother will soon drop by to have a look at it.
I also want to check if the router I ordered is going to make any difference with the wireless network connection.