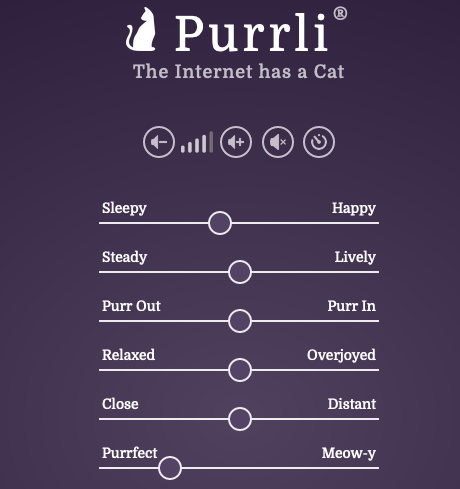 The sound of a purring cat is one of the most comforting sounds available and can help soothe and calm you down when you're feeling stressed. Naturally, it's not just the sound that is important, but it's also the presence of the warm cuddly cat. Purrli tries to recreate both the sound and the presence of your very own virtual cat through a custom sound engine modelled after real purrs.

With a purr that delicately changes over time, Purrli aims at making the experience as real and lively as possible. Just like a real cat, Purrli will call for your attention. Just be careful when adjusting the last slider, if you don't want to be nagged in the middle of your work.
Source: The Internet has a Cat! Meet Purrli, the Online Cat Purr Generator. by Dr. Ir. Stéphane Pigeon.